Premium underlay for your premium flooring
Boost your floor's comfort, insulation, and soundproofing with our top-quality underlay options.
Choosing the right underlay is made easy with Neil McBrearty Carpets in Carlisle
Selecting the perfect underlay is essential for maintaining your carpet's quality and minimising noise. Areas with greater footfall, such as stairs and hallways, will require different underlay from quieter areas, such as a bedroom. Thankfully, our wide range of underlay options caters to every need and preference, ensuring the best fit for your space.
Explore our premium underlay selections:
1. All Ball & Young products
2. All interfloor products
All of our underlay options offer unique features and benefits, such as excellent heat and sound insulation, flame retardant properties, environmentally-responsible materials, and suitability for all areas of your home.
Make the right decision with ease
Buying the perfect underlay can be challenging if you don't have much experience. That's why our team at Neil McBrearty Carpets in Carlisle are here to make things simple. With our FREE home measuring service, you can be confident that your quote is accurate in terms of measurement and price. Plus, we're always on hand to answer your questions and offer friendly advice.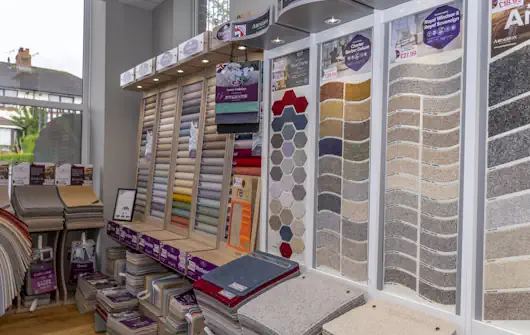 Home Underlay Sample Service
Visualising how different underlays will look and feel in your home can be difficult. Our showroom and home samples service helps eliminate this issue by providing samples for every room. Evaluate the underlays in different light conditions to make the best choice for your space.
Professional fitting for a luxury finish
Our experienced team doesn't just supply underlay – we also offer expert fitting services. And with our highly professional finish, we guarantee a job well done across all types of flooring projects.
Find out more about our underlay options today
Visit our showroom in Carlisle or contact us for a FREE home measuring service and no-obligation quote. Let us help you enhance your floors with the perfect underlay for comfort, insulation, and sound proofing.