Boost your business with a new, hard-wearing commercial carpet
Buy a top-quality carpet for your Carlisle premises and get the exceptional fitting services you'd expect for your home.
Searching for a high-quality, long-lasting commercial carpet?
Selecting the right flooring for your workspace is crucial, as it impacts your business's overall appearance, comfort, and functionality. When deciding which option to choose, you must consider durability, maintenance, budget, and aesthetics. Neil McBrearty Carpets in Carlisle is here to offer guidance every step of the way.
Experience the ease of getting a commercial carpet
Our expert team simplifies the process by providing free workspace measuring, personalised consultations, and a wide range of durable, stylish options. Trust our experienced fitters to install your chosen carpet efficiently, creating an inviting, professional workspace in no time.
Ideal for high-traffic workplaces in Cumbria
Our commercial-grade carpets are perfect for high-traffic areas like offices, schools, pubs, and healthcare settings across Cumbria. With exceptional durability, they withstand constant footfall and furniture movement, keeping your commercial space looking fresh. Explore our superb carpet selections in our well-designed, brightly lit showroom.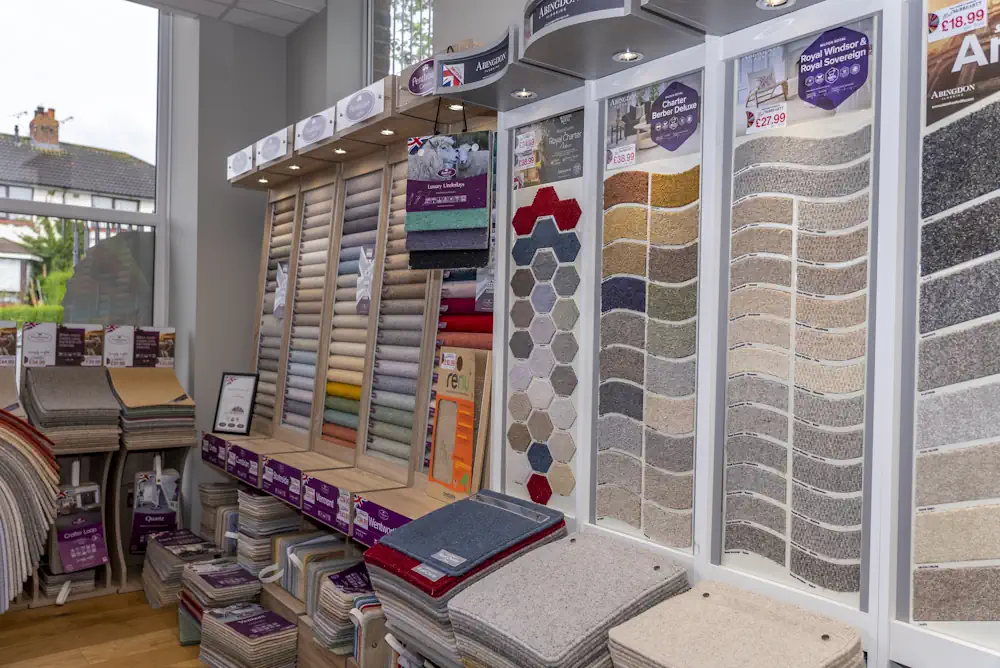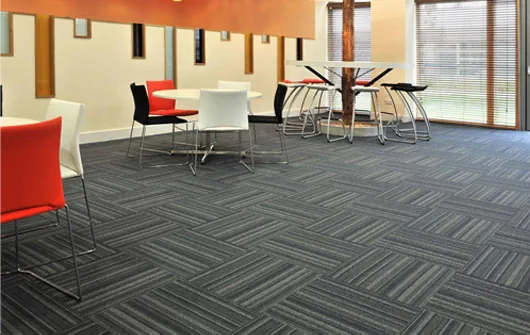 Carpet tiles could be
a great option
Carpet tiles offer an excellent solution for commercial offices, community buildings, and schools. They can be easily lifted for cleaning, replacement, or accessing underfloor cable runs, making them ideal for shared, flexible office spaces and business centres with frequent tenant changes.
Modern gel-backed
commercial carpets
Enjoy exceptional comfort and wear resistance with our latest gel-backed carpets and carpet tiles. Eliminate the need for underlay with the unique gel backing that firmly grips the pile, providing a soft and cushioned feel underfoot. Experience a quiet and stylish floor covering that looks great while providing unmatched comfort.
Experienced commercial carpet installers
With years of commercial experience, you can count on us to install a heavy-duty carpet perfect for your business. And our free commercial carpet and flooring quotes are based on accurate measurements, ensuring you receive the best possible flooring solution for your organisation.
Make the most of our
workplace sample service
Picking the perfect carpet for offices, reception areas, classrooms, or healthcare spaces can be trickier than for your home. Think about cleanliness, spills, hygiene, easy cleaning, and how the carpet matches your furniture and adapts to future tenant or room changes. Compare samples in situ to ensure you make the right choice.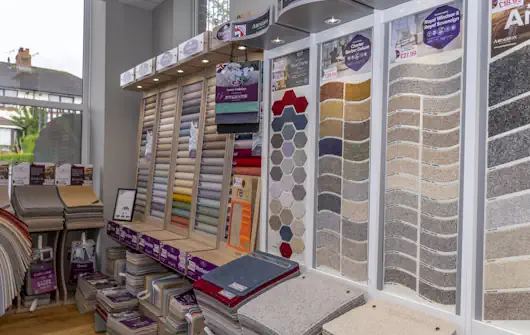 Call now or visit our
Carlisle showroom
View carpet samples in our Carlisle carpet shop, then take them away with you to see how they look under different lighting conditions. Trust Neil McBrearty Carpets in Carlisle to help you make the best choice for your business, ensuring long-lasting performance and satisfaction.
Contact us now for advice or to book an appointment.